I can't believe it... the creative juices just started flowing again one morning! This is the first thing I've written in quite some time. I have several rather detailed analyses of it myself, but I'll leave it to you to come up with your own.
---
two alternatives.
by Damon Harper
prologue.
from above, lives are crystal;
crystal sheen that sheathes the world within.
the crystal is perfect, it reflects
the pure light of my perfection.
the crystal is a filter, it weeds out
those things i glimpse and turn my eyes away.
i think i see you.
I. failure.
but as the plane approaches
the facets rearrange.
i peer downward with increasing insecurities.
what have i found? what lies below?
with trepidation i perceive
this may not be all that i had hoped.
closer still
the sheen gives way to jumbled mind.
my eyes undazzle, behold
clumsy organic truth
cased in brittle pock-marked glass.
in terror, i deny.
this is not who you are this is not what you feel this is not what i thought this is not.
what i wanted.
i steer away;
we come together
but we never meet.
II. success.
again the facets rearrange.
i see i have not known you; i am afraid.
but behind the crystal
your life pulses.
cautious, i look closer.
organic truth revealed is disconcerting --
i turn away, i turn back, i cannot decide.
but in the turning lies a new perception;
a sidewise glance
reveals momentary vistas,
vast planes of biological complexity --
disturbing, yes --
more beautiful by far than any dead cold shiny rock.
is there room inside my own brittle glass
for another?
---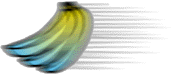 follow the bananas to Damon's Scribblings...
---
Copyright © 1996 by Damon Harper.